S - 162cm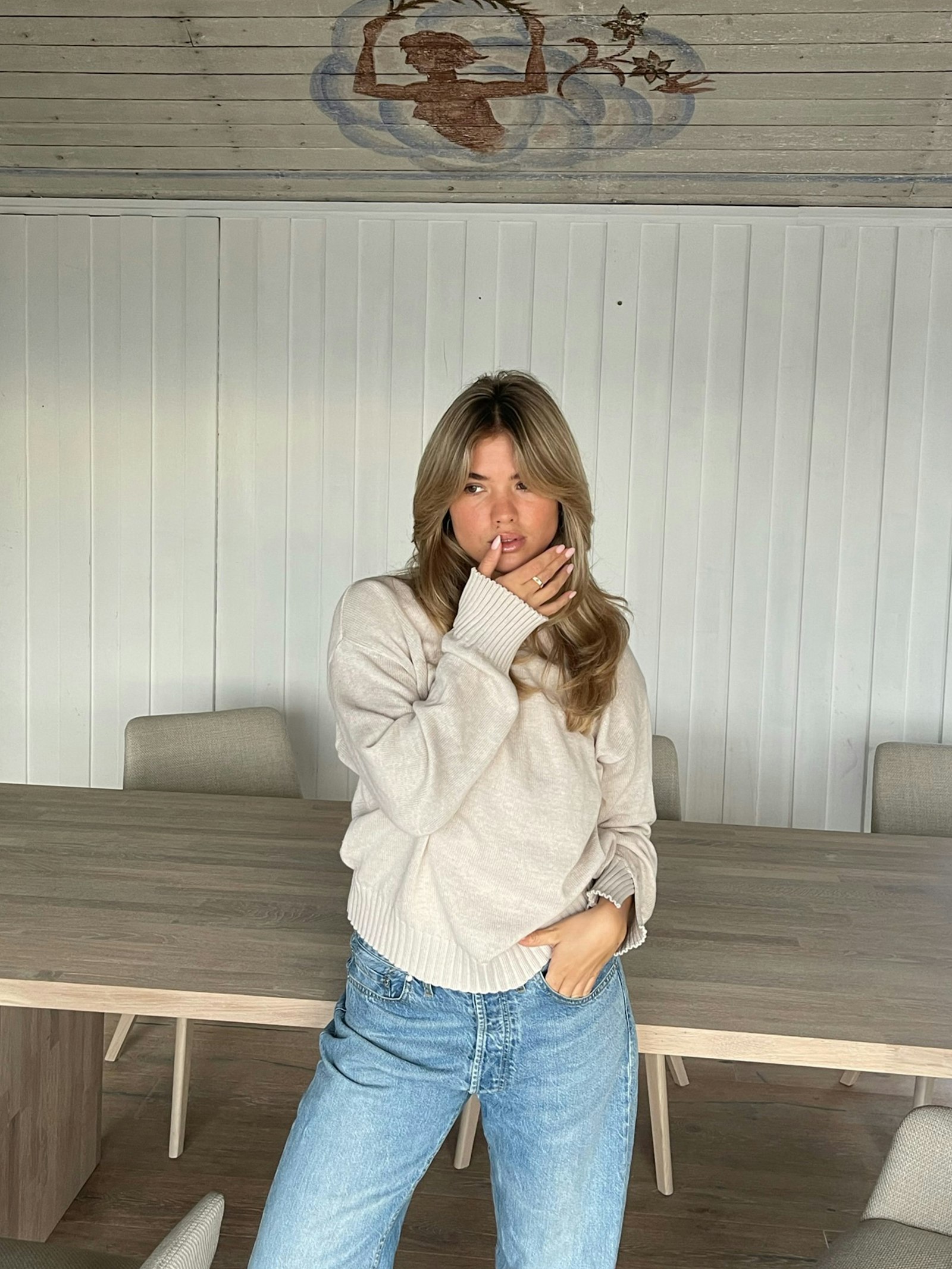 Votre taille n'est pas disponible? Saisissez-la pour vous inscrire sur la liste d'attente.
Note from Matilda: The perfect knitted sweater has been missing from my closet for years, so finally launching our knitwear feels like the most exciting thing. Our knits are made from the softest cotton and recycled cotton, I wanted to keep it thin so you can layer it and so it's easy for everyday wear. My favorite ways to style it since we received the first sample have been with my favorite relaxed jeans, with a t-shirt under and a blazer over. Preferably with a scarf thrown around my neck!
Crewneck Sweater Cream
Col rond, fente au bas des manches Notre Crewneck Sweater est confectionné dans un mélange 50 % fibres de coton recyclé et 50 % coton égyptien. Il arbore une coupe décontractée, un col rond classique et une fente au bas des manches. Cette maille de poids moyen, modèle essentiel et polyvalent de la garde-robe, peut se porter en toute saison.
Round neckline
Slit in sleeve opening
Fabric
50% Recycled cotton, 50% Cotton
Information
Ecoloop is a yarn that combines high quality with reduced environmental impact. Ecoloop is made from a cotton blend made up of 50% colored fibers deriving from internal upcycling activities and 50% virgin fibers. The intimate blend, the spinning and twisting technique adopted to ensure that the virgin portion of fiber encapsulates and wraps the other half. The result is a high-quality melange yarn that allows significant savings in virgin cotton, energy, water and chemicals. The process uses less water and chemicals therefore leaves the yarn in its natural color hence why the color white is not achievable.
Ne pas utiliser d'eau de javel
Lavage à froid, programme délicat
HOW TO STYLE OUR CREWNECK SWEATER
HOW TO STYLE OUR CREWNECK SWEATER
LOOK 1
Style with our Straight Jeans Mid Blue and our Djerf Avenue T-shirt
LOOK 2
Style with our Dream Skirt Rain and a pair of colorful heels
LOOK 3
Style with our Straight Jeans Black, Forever Blazer Grey and Scarf Black
LOOK 1
Style with our Straight Jeans Mid Blue and our Djerf Avenue T-shirt
Conseils de style
In order to leave a review, you need to be logged in and have purchased the product.