3XL - 166cm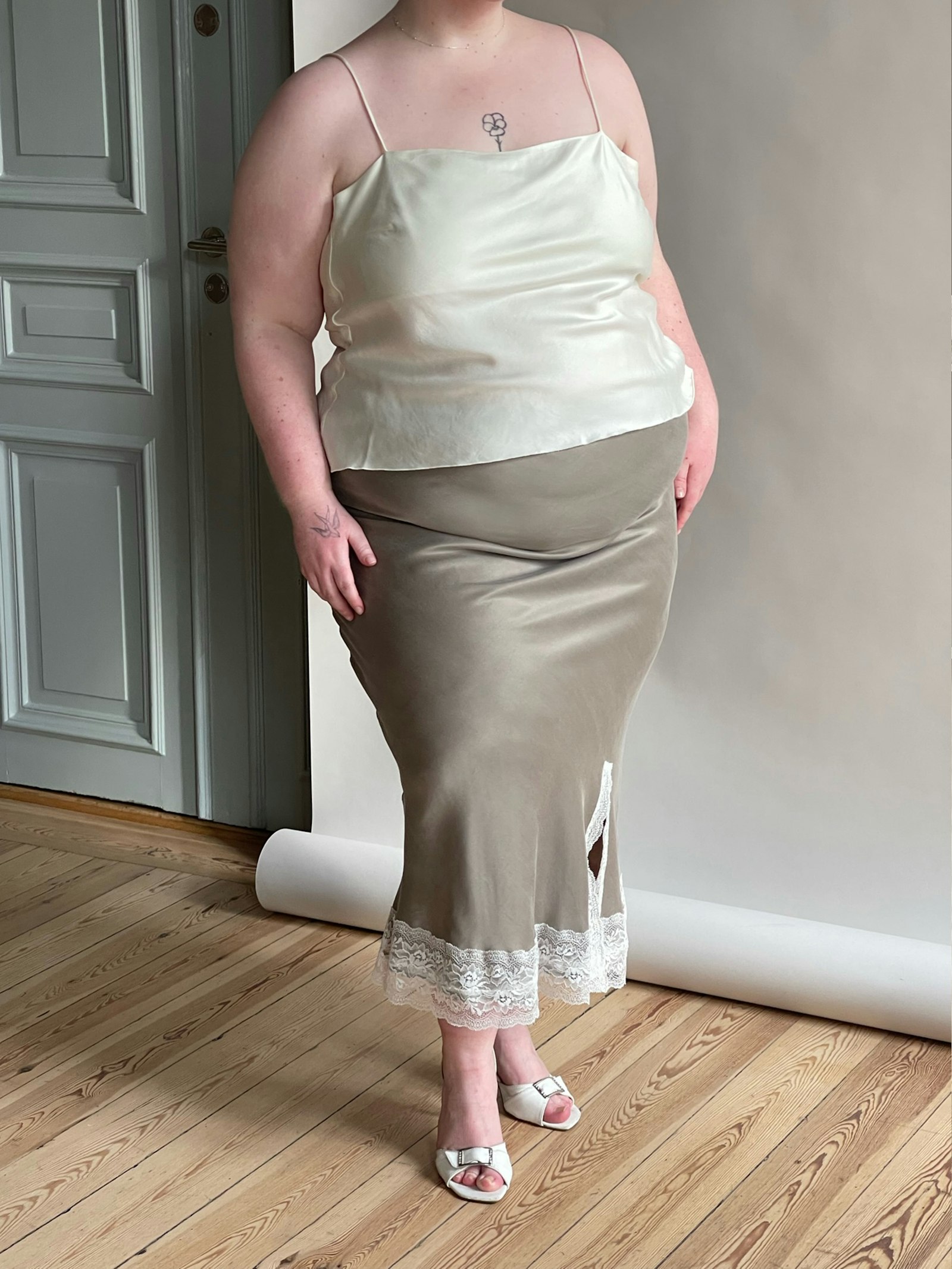 REMAKE Dream Skirt Rain - White Lace
Votre taille n'est pas disponible? Saisissez-la pour vous inscrire sur la liste d'attente.
Please note
Since this is a made to-order item that will be altered with your choice of lace, we will not approve returns or exchanges. If your shopping cart contains one or several REMAKE products, please note that the delivery time will be longer than usual as these are made to-order and all products will be sent at the same time. REMAKE products with lace will be delivered within 4-5 weeks.
REMAKE Dream Skirt Rain - White Lace
Notre Dream Skirt arbore une coupe légèrement évasée et une taille élastique. Elle est conçue pour vous accompagner en toute saison et pour toutes les occasions. C'est une pièce idéale pour un look décontracté comme habillé, qui peut se porter aussi bien en taille haute qu'en taille basse ou mi-haute.

Cet article s'inscrit dans le cadre de notre projet Remake, réalisé en partenariat avec Textilfabriken situé à Borås. Nous nous sommes appuyés sur un modèle existant, qui s'inspire de mes robes nuisette vintage préférées, et l'avons modifié. Pour cette silhouette, nous avons utilisé des stocks invendus d'une magnifique dentelle provenant de chez Rekotex.
x Matilda
Lace on the bottom hem with a slit
Elastic waistband
Composition
53 % cupro, 47 % viscose
Provenance
Fibres : Turquie
Deadstock Lace
70% Polyamide, 16% Elastane, 14% Cotton
information
Deadstock fabrics, also known as overstock or surplus fabrics, are left-over materials that has been shelved by either a clothing brand or a fabric producer after they are done with their productions. For example, many brands are working very long ahead for upcoming seasons and might not need all of the fabric once they are closer to producing and launching their garments. Or they might cancel a whole style or color and choose to not use the fabric at all.
Ne pas utiliser d'eau de javel
Repasser à fer doux sur l'envers
Mit ähnlichen Farben waschen
Conseils de style
In order to leave a review, you need to be logged in and have purchased the product.