S - 162cm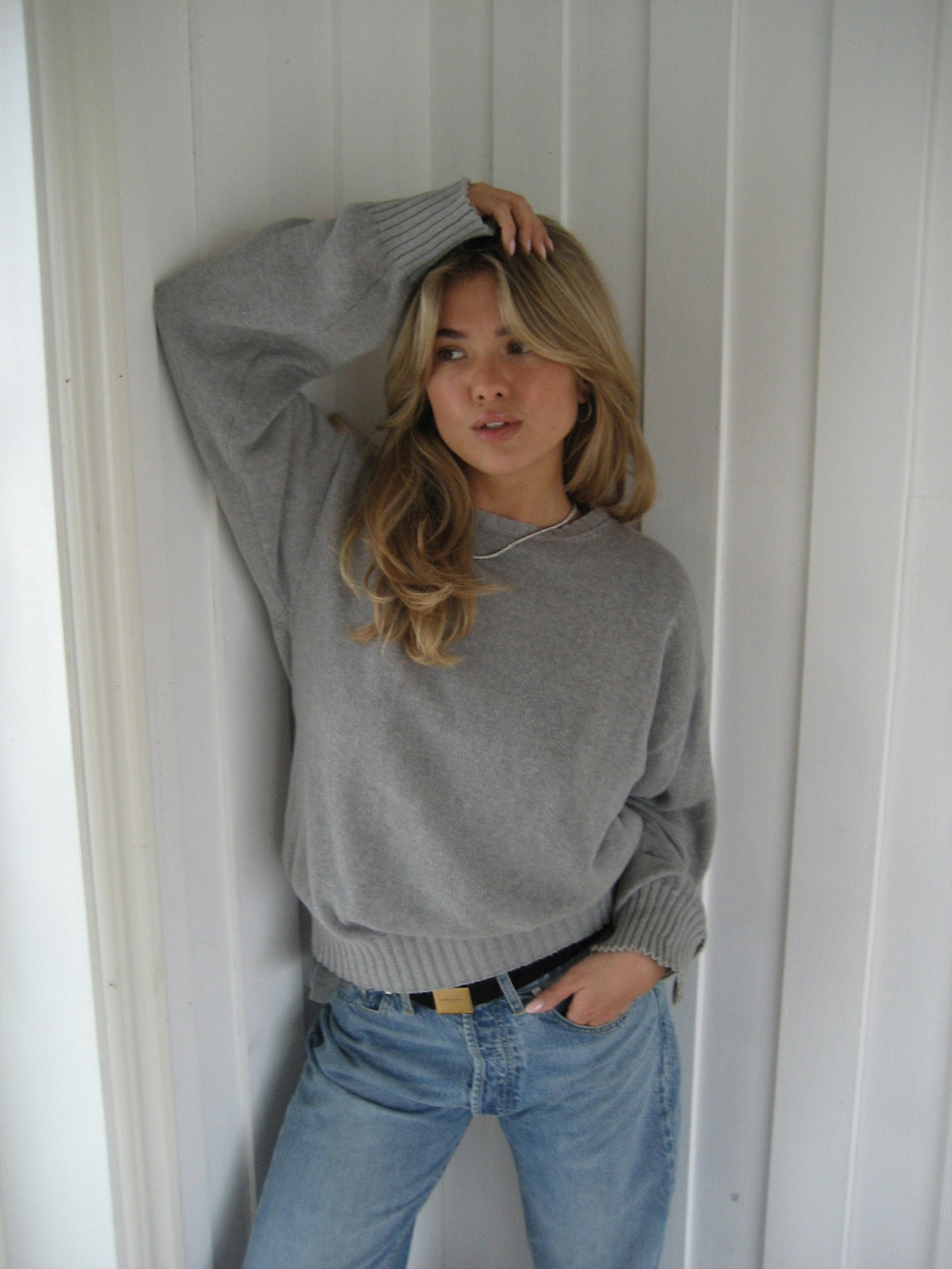 Größe nicht verfügbar? Wähle deine Größe, um dich auf die Warteliste zu setzen.
Note from Matilda: The perfect knitted sweater has been missing from my closet for years, so finally launching our knitwear feels like the most exciting thing. Our knits are made from the softest cotton and recycled cotton, I wanted to keep it thin so you can layer it and so it's easy for everyday wear. My favorite ways to style it since we received the first sample have been with my favorite relaxed jeans, with a t-shirt under and a blazer over. Preferably with a scarf thrown around my neck!
Crewneck Sweater Grey
Rundhalsausschnitt, geschlitzte Ärmel. Unser Crewneck Sweater besteht aus 50 % recycelter und 50 % ägyptischer Baumwolle. Er verfügt über eine lässige Passform, einen klassischen Rundhalsausschnitt und Schlitze an den Ärmelsäumen. Der Strickstoff ist weder zu dick noch zu dünn und daher der perfekte Allrounder für jede Jahreszeit.
Round neckline
Slit in sleeve opening
Fabric
50% Recycled cotton, 50% Cotton
Information
Ecoloop is a yarn that combines high quality with reduced environmental impact. Ecoloop is made from a cotton blend made up of 50% colored fibers deriving from internal upcycling activities and 50% virgin fibers. The intimate blend, the spinning and twisting technique adopted to ensure that the virgin portion of fiber encapsulates and wraps the other half. The result is a high-quality melange yarn that allows significant savings in virgin cotton, energy, water and chemicals. The process uses less water and chemicals therefore leaves the yarn in its natural color hence why the color white is not achievable.
Auf niedriger Hitze bügeln
Nicht im Trockner trocknen
Chemische Reinigung möglich
HOW TO STYLE OUR CREWNECK SWEATER
HOW TO STYLE OUR CREWNECK SWEATER
LOOK 1
Style with our Dream skirt baby blue and Djerf Avenue t-shirt
LOOK 2
Style with our On The Go Pants Storm and Djerf Avenue t-shirt
LOOK 3
Style with our Forever Blazer Black and Go To Pants Green
LOOK 1
Style with our Dream skirt baby blue and Djerf Avenue t-shirt
Styling tips
In order to leave a review you need to be logged in and have purchased the product.