M - 180cm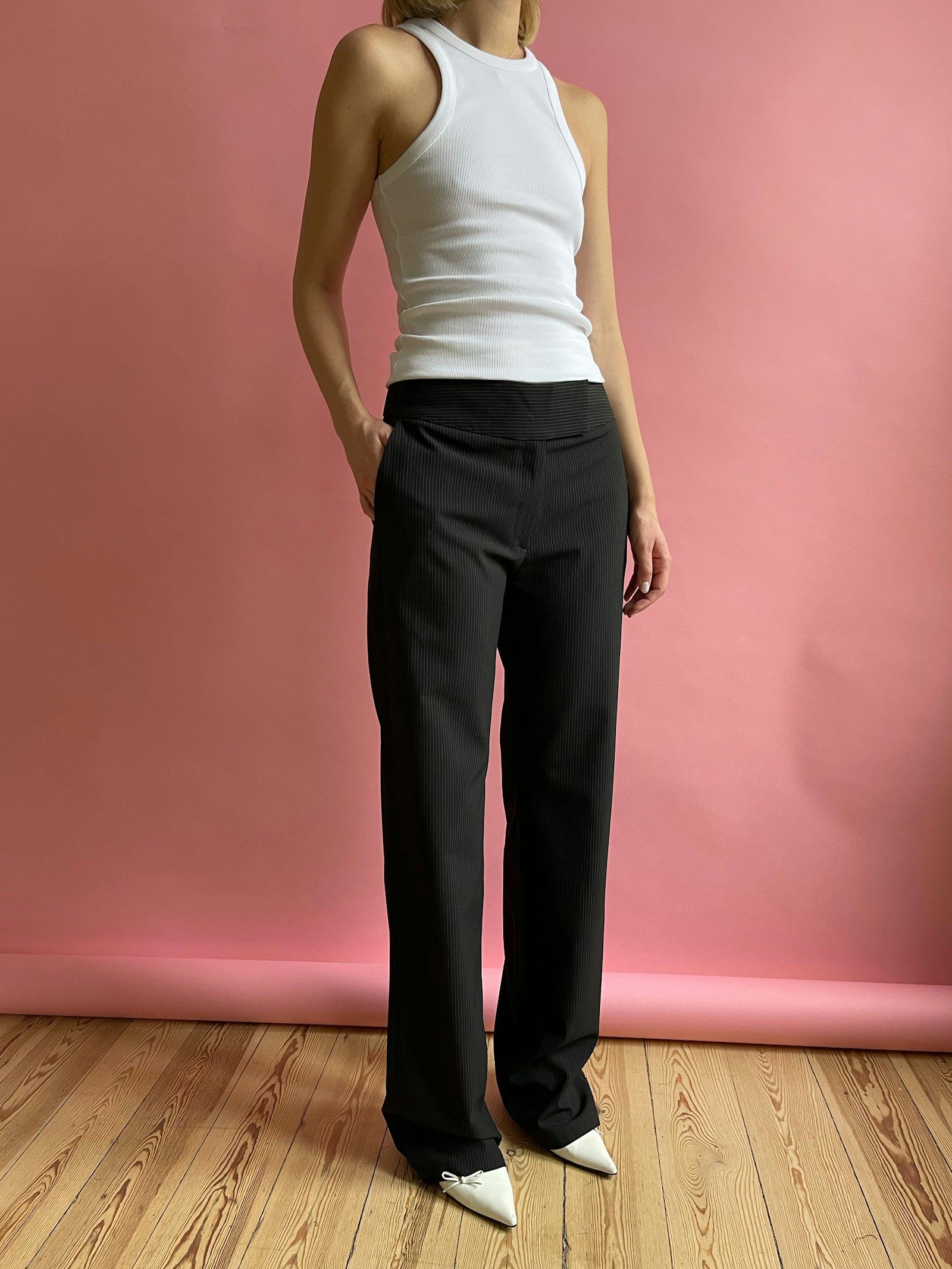 Day-to-day Pants Pinstripe - Tall
Unsere neue Anzughose ist da! Unsere Day-To-Day Pants sind die perfekten Hosen mit mittlerer Taille, geradem Beinverlauf und breitem Hüftbund. Ausgestattet mit einer stabilen Frontlasche und einem doppelten Haken- und Ösenverschluss, sitzt die Hose den ganzen Tag über sicher und bequem am Körper.
Mittelhoher Bund
Gerader Beinverlauf
Zwei Taschen vorne
Zwei Eingrifftaschen mit Patten
Verschluss mit zwei Haken und Ösen
Stoffreste
66% Polyester, 32 % Viskose, 2 % Elastan
Information
Deadstock fabrics, also known as overstock or surplus fabrics, are left-over materials that has been shelved by either a clothing brand or a fabric producer after they are done with their productions. For example, many brands are working very long ahead for upcoming seasons and might not need all of the fabric once they are closer to producing and launching their garments. Or they might cancel a whole style or color and choose to not use the fabric at all. Our pinstripe fabric has been shelved for 7 years and is finally coming into great use with us!  A positive aspect of it being polyester is that the quality is still just as good as new and hasn't been damaged, as a sensitive silk fabric could be for example. Also, the polyester in this fabric is not recycled, but since it's an already existing polyester we have not used up any new resources to be able to have it.
Auf niedriger Hitze bügeln
Nicht im Trockner trocknen
Maschinenwaschbar bei max. 30°C
Maschinenwaschbar mit Kaltwäsche und auf links
Chemische Reinigung möglich
HOW TO STYLE OUR DAY TO DAY PANTS
HOW TO STYLE OUR DAY TO DAY PANTS
DINNER
Style with our Tie Tank Top Cloud and Forever Blazer
CASUAL
Style With Our Daily T Shirt Ribbed White
DAY TO DAY
Style with our Dream Cardigan Cloud and Dream Tank Top Cloud
DINNER
Style with our Tie Tank Top Cloud and Forever Blazer
Styling tips
In order to leave a review you need to be logged in and have purchased the product.